Samsung introduced its 5 in 1 convertible AC- and like always, its users are more than thrilled with its innovation. Featuring auto cooling through AI, it automatically adapts according to the air conditioner usage by the customer and, on its own, switches to the most optimum cooling according to the temperature outside and inside.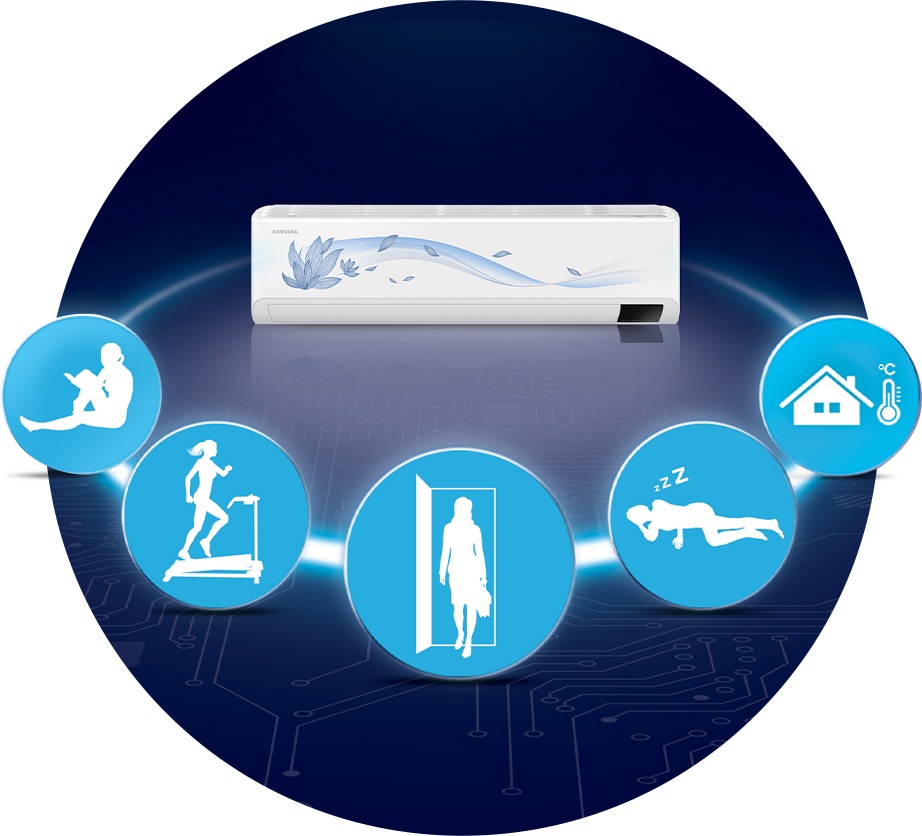 For the comfort of the user, it also provides options of normal and fast-cooling as per convenience.
Optimization as per your moods
The air conditioner has a cooling mode for almost all kinds of prospective times. The 5-moods targeted by the South Korean brand are-
40% cooling- Home alone mode
60% cooling- Eco mode
80% cooling- Pleasant mode
100% cooling- Normal mode
120% cooling- Party mode
Wi-Fi Cooling and Voice Control
Through the SmartThings app, the user can control remotely- and by setting the AC to your preferred cooling mode, it would always welcome you with that when you reach home.
Through Google Home, Alexa and Bixby, you'd be easily able to set your AC with the instructions of your voice.
Easy Filter+ and Tri-Care Filter
While the former facilitates removing and cleaning of the AC, the latter is particularly coated with Zeolite that gives 3x protection against harmful allergens, bacteria, and viruses. 
The Easy Filter+ is located outside, on the top, and gives very easy maintenance for the AC. It keeps the heat exchanger neat and fresh. The Tri-Care Filter, as Samsung claims, reduces bacteria and viruses up to 99 percent, while the allergens up to 98 percent. 
Coming with a 10-year Samsung ACs warranty and a 5-year comprehensive warranty, the air conditioner also features a 5-star inverter, 4-way swing, a 100% copper condenser, R32 gas, and a voltage fluctuation protector.